Institute of Biotechnology and Pharmaceutical Research
Introduction | Research Direction | Research Achievements
Organization | Advisory | Faculty and Staff
Introduction
The Division of Biotechnology and Pharmaceutical Research (DBPR) of NHRI was founded in January 1998. The mission of the DBPR is to establish, conduct and support research on new medicines and biotechnology that will lead to better human health and quality of life. Working collectively, the DBPR integrated drug discovery group, including molecular biology, medicinal chemistry, molecular modeling, automated high throughput screening, pharmacokinetics, drug metabolism and animal pharmacology, plays the role of upstream drug R&D to discover novel therapies for local-prevalent diseases and other diseases based on medical needs.
Furthermore, DBPR collaborates with academic and research institutes as well as pharmaceutical industries in Taiwan to process all drug discovery projects and promote DBPR's research achievements through two strategies of research cooperation and drug candidates transfer.
The main objectives are as follows:
Develop novel biotechnology and pharmaceutical R&D.
Discover new drugs for local-prevalent diseases and other diseases based on medical needs.
Coordinate domestic collaborative efforts in drug R&D to better utilize the available resources.
Transfer drug candidates to pharmaceutical companies to improve biotechnology and pharmaceutical industries in Taiwan.
Research Direction
In early 21st century, the revolutionary development of biological genome and protenome makes biotechnology a stellar industry in the future. When developed countries turn into ageing societies, medical business shall flourish undoubtedly. Therefore grounding on concerns about life, facilitating local biotechnology and novel drug R&D to develop new technologies and patents is one of NHRI's missions.
DBPR emphasizes on screening and developing treatments for locally prevalent cancers and infectious diseases, and worldwide metabolic diseases in novel drug discovery, taking the strategies of time-efficient "old drug new use" and optimized synthesis of clinical development drug, and time-consuming but innovative New Chemical Entity (NCE) discovery.
At the same time, DBPR also takes active part in "National Science and Technology Program for Biotechnology and Pharmaceuticals (NSTP)," by means of the integrated drug discovery team of DBPR, conducting novel drug R&D and utilize research sources to develop related advanced technologies so as to assist achieving the goal of NSTP and the ultimate objective of increasing the R&D efficiency, planting the infrastructure of local medical-tech industry to promoting the biopharmaceutical development.
Research points are as follows:
Establish and maintain the integrated novel drug discovery group.
Screen, research and develop active compounds for treatment of prevalent cancers (such as hepatoma, gastric carcinoma, cervical cancer, oral cancer, etc.), infectious diseases (such as enterovirus, hepatitis C, dengue, etc.) and metabolic diseases like diabetes which worsens everyday in Taiwan, and make them drug candidates.
Support the anti-cancer and anti-diabetes activity assays for NSTP and foster cooperation among domestic industry, government, academic and research institutes.
Plan and implement preclinical trials of the selected drug candidates against enterovirus, cancers, diabetes and others diseases by DBPR, then industrialize the novel drug R&D technologies.
Research Achievements
DBPR was set up in 1998 with major emphasis on the upstream drug R&D to combat cancers, infectious diseases and metabolic diseases. Notable achievements have been accumulated; 12 international and national patents had been granted until 2006, and hundreds of papers are published on famous journals. (Published papers and granted patents).
Moreover, DBPR spares no efforts in tackling imperative health issues. For instance, NHRI launched an influenza research project in response to the avian influenza outbreak warning from WHO. At that time DBPR was urgently assigned the mission by Department of Health to research on the processing procedures of anti-flu drug, oseltamivir phosphate (Tamiflu), and successfully accomplished the 12-step synthetic rehearsal of manufacturing process within 18 days. Then DBPR researchers succeeded to do small-scaled pilot manufacture in the following week and produced a batch of oseltamivir phosphate (Tamiflu) which was chemically identical to Roche's drug. This laboratory version of manufacturing Tamiflu had been successfully transferred to a local pharmaceutical company for large-scale production. This project makes a deep impact that not only proved as a great academic achievement but also shows Taiwan's capability of making antivirus drugs, which definitely raises the confidence of Taiwan people, increases the economic values of bio-pharmaceutical industry, strengthens social stability and boosts the international reputation of Taiwan.
Beside of conducting the mission-oriented drug discovery following the targeted objective, cooperating with the project of promoting successful biotech investments by Biotechnology Industry Guide Team of Executive Yuan, DBPR also assist to build up critical technical platforms and production pipelines with high commercial value and quality of industrial strategy in an attempt to set the stage for biotech companies in Taiwan or to help the existent companies transferring into high value-added biotechnology and pharmaceutical research. Phasing in the selected drug candidates to the clinical trails and research organizations (CRO) or corporations and transferring R&D technologies to local pharmaceutical makers for further collaboration, DBPR is aimed to accelerate the midstream development of Taiwan bio-pharmaceutical industry and the functional mechanism of clinical trials, to network domestic pharmaceuticals, to industrialize the laboratory products, to make bio-pharmaceutical a prime engine of the island's economy as well as to promote local biotech investments.
As for personnel cultivation, postdoctoral scientists at home and abroad are recruited to join the DBPR's integrated drug discovery group. For years, DBPR has put efforts in cultivating local researchers and graduates with background in biological, medicinal, pharmaceutical and chemical related majors, and has employed researchers on military service since 1998. Under the ambience of multi-disciplinary teamwork, researchers can not only bring their skills into full play, learn more advanced technologies, and accumulate experiences in interdisciplinary collaborations, they shall become R&D professionals in the future to raise the research level of biotechnology and pharmaceutical study. The teamwork pattern and spirit trained at DBPR enable them to play the important role of cultivating outstanding talents once they return to school for further academic research. The cooperation among industry, academic and the institute shares the intellectual rights and promotes the upstream and midstream drug R&D. In addition, they will directly or consequentially be the new powerhouse of biotechnology and pharmaceutical research to improve Taiwan's international image when on board to local or international drug makers after further study abroad.
Organization
Since Biotechnology and Pharmaceutical Research is a knowledge-oriented and globalized industry with high dependence upon abundant monetary supply and time investment, R&D technology and human resource will be the key points of core competitiveness. In the process of new drug R&D, the collaboration and inter-support of all technologies are required to work on investigation and identification of novel drugs, and furthermore drug development.
DBPR had teamed a research group capable of six important techniques, including assays for drug screening, high throughput screening system, medicinal chemistry, virtual drug screening, molecular modeling, disease animal models, in vivo pharmacokinetics and metabolism, to collaboratively discover novel drugs for-prevalent diseases.
Organization Chart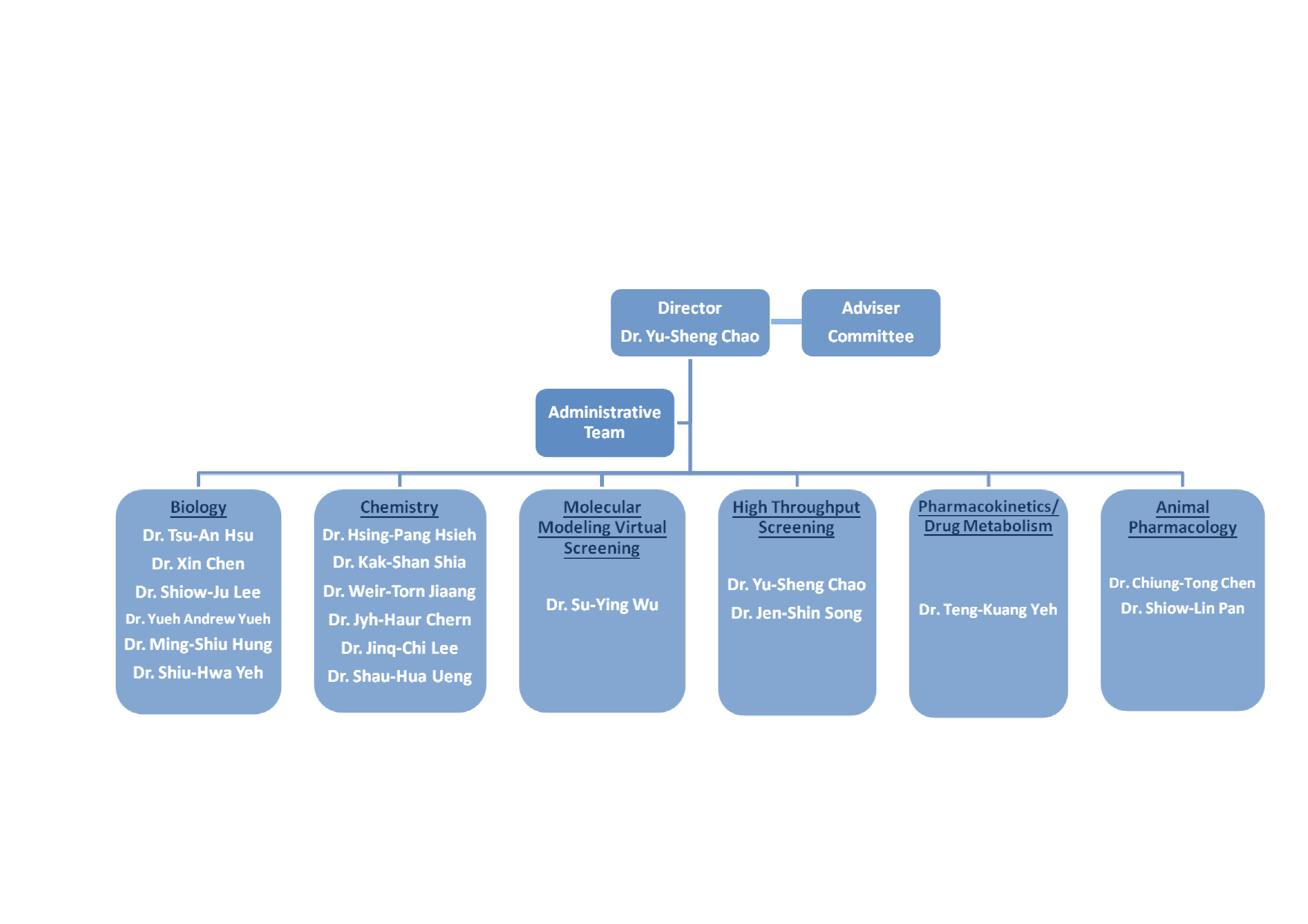 Advisory Committee
Dr. Horace H. Loh
(Chairman)

Member, Academia Sinica
Frederick Stark Professor and Department Head, Pharmacology Dept., Medical School, University of Minnesota, U.S.A.

Dr. Yung-Chi Cheng

Member, Academia Sinica
Henry Bronson Professor of Pharmacology, Department of Pharmacology, Yale University School of Medicine, U.S.A.

Dr. Hung-Wen Liu

Member, Academia Sinica
Professor, Institute for Cellular & Molecular Biology, the University of Texas at Austin, U.S.A.

Dr. Anthony Y. H. Lu

Adjunct Professor, Department of Chemical Biology, School of Pharmacy, Rutgers University, U. S. A.

Dr. Ta-Yuan Chang

Professor, Dartmouth Medical School, Department of Biochemistry, Hanover, U.S.A.

Dr. Shing Chang

R & D Director, Drug for Neglected Diseases initiative(DNDi), Geneva

Dr. Low-Tone Ho

Director, Medical Research & Education, Taipei Veterans General Hospital