Institute of Molecular and Genomic Medicine
Mission
Form distinct integrated research groups
Further recruitment of young promising scientists, postdoctoral fellows and students
Develop and apply modern molecular and genomic methodology to conduct high quality research toward understanding, prevention and cure of diseases
Promote genomic and molecular genetic research and related biotechnology development in Taiwan
Goals
Development of state -of-the-art molecular and genomic technology and identification of genes and molecular mechanisms involved in diseases prevalent in Taiwan including cancer, infectious diseases and inherited diseases.
Translational application of newly identified disease genes and newly developed methodology in clinical and biotechnological industries respectively.
Training and development of promising young scientists including junior faculty, postdoctoral fellows and students to become productive independent investigators.
Establishment of inter-divisional and inter-institutional research collaboration.
Organization chart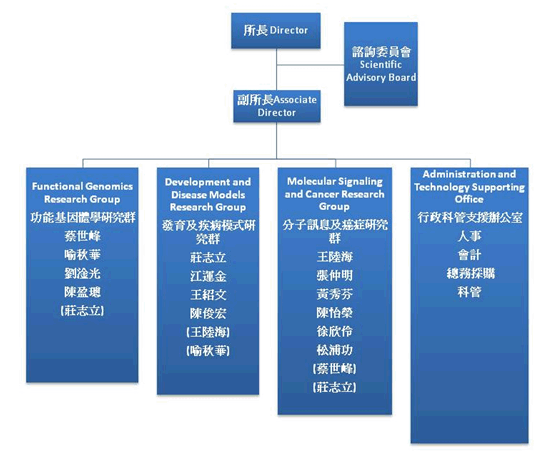 Research program and directions
(1) Functional Genomics Research Group
Goal

: using high throughput genomic approach to delineate genetic basis underlying diseases important in Taiwan

Main strength

:next-generation sequencing, genotyping, microbial genomics , transcriptome analysis, metabolome analysis, epigenomics analysis and systems biology

Focus

: cancer, infectious diseases, inherited diseases and neurodegenerative diseases
(2) The Development and Disease Models Research Group
Goal

:understanding molecular mechanism of signaling pathway in human disease

Main strength

:use various experimental disease models, including mouse, zebra fish, Drosophila, mosquito and yeast, to delineate signaling pathways involved in development and human diseases

Focus

:cancer and neurodegenerative disease
(3) The Molecular Signaling and Cancer Research Group
Goal

:to unveil the molecular basis underlying the development and progression of cancer, and to identify biomarkers useful for diagnosis, prognosis and development of anti-cancer therapeutics

Main strength

: signal transduction and high throughput gene and protein analysis in cell-based and animal model-based systems, which is complemented by the clinical samples-based biochemical and gene array analysis

Focus

: lung, liver, breast, and oral cancers