Secretary General's Office
Introduction | Publication | Participated Research Proposals | Members
Secretary General Hung-Che Chiang, M.D., Ph.D.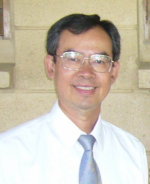 Introduction
Dr. Hung-Che Chiang has been appointed as Investigator with the Division of Environmental Health and Occupational Medicine since March 1, 2009. And he has also resumed the NHRI Secretary General position since March 9, 2009.
Chiang first received his bachelor degree in pharmacy from Kaohsiung Medical University in 1977 and Master of Science in tropical medicine before he pursued a medical degree from National Cheng-Kung University in 1989 and later a Ph.D. degree from Kaohsiung Medical University in 2004.
Chiang is one of the few pioneering physicians specializing in occupational lead poisoning, musculoskeletal disorders and noise-induced hearing loss problems in Taiwan. In addition, he is experienced in health policy and administration public service sector having served as General Manager of Kao-Ping branch office and later Vice President of the Bureau of National Health Insurance before recruited by Kaohsiung Medical University as Vice Superintendent of the university hospital.
Chiang is a versatile physician scientist well equipped with administrative ability. His current research interest focuses on the health impacts from environmental thermal stress from epidemiology, occupational medicine and molecular biology approaches.