President's Office
President's Remarks | Curriculum Vitae | Research | Publication | Members
President Kenneth K. Wu, M.D., Ph.D.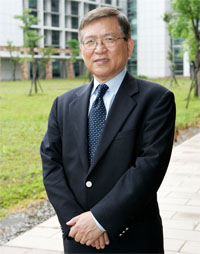 Under the concerted efforts of scientists in the past few decades, biomedical research in Taiwan has achieved a certain standard of progress. However, researches in the field were mostly carried out in scattered institutions and could not excel as a team. The National Heath Research Institutes (NHRI) was thus established to lead and coordinate health-related research efforts in the country and to achieve the goal of Health for All.
The NHRI is a mission-oriented research institution. It serves as a "Think Tank" to the government. Academically, NHRI coordinates and supports biomedical researches and provides research resources to local institutions. At the public level, NHRI hopes to utilize research results to enhance the well being of the people and in the meantime, promotes public education on biomedical research. Consequently, the endeavors undertaken by NHRI to accomplish these missions can be categorized into three major themes: (1) to strengthen research on locally prevalent diseases; (2) to advance biotechnology and pharmaceutical research in order to render competitiveness in the local pharmaceutical industry; and (3) to help strengthen governmental heath policies and thus increase health cost-efficiency. Based on the themes mentioned above, ten research units are currently set up to achieve these goals. These ten research units are listed as follows:
The Institute of Cancer Research, the Division of Clinical Research, the Division of Mental Health and Drug Abuse Research, the Division of Environmental Health and Occupational Medicine Research, and the Division of Gerontology Research: these five divisions aim to address and solve locally prevalent diseases and health issues. The Division of Molecular and Genomic Medicine Research, the Division of Biotechnology and Pharmaceutical Research, the Division of Medical Engineering Research, and the Division of Biostatistics and Bioinformatics: these four divisions put great endeavor to develop medical technology and pharmaceutical research, and to promote technology transfer that will lead to new treatments, new products, and new techniques. The Center for Health Policy Research and Development: this center aims to solicit efforts to provide better strategies for streamlining health policies and preventive medicine through careful planning and evidence-based research.
To cope with the rapid, emerging development on medical research and biotechnology, NHRI has also set up Center for Nanomedicine Research, Stem Cell Research Center, and Vaccine Research and Development Center aiming at probing into new and challenging research fields. Hopefully, these research centers will help promote the advancement of biomedical research in Taiwan.
Through collaborative research programs, NHRI promotes collaboration between itself and outside medical institutions to form a research network to conduct research, improve health quality, advance biotechnology, and improve the well being of the people. Each project is critically reviewed and evaluated by panels of international experts. This system of evaluation developed by NHRI has already earned a reputation for its professional excellence. Apart from that, NHRI strives to establish and make available to medical institutions throughout Taiwan resources critically needed for scientific investigation such as Cell Bank, Health Research Information Network, National Health Insurance Research Database and Bioinformatics, which are highly regarded by the scientific community.
In essence, advancing current biomedical research standards, health policy and biotechnology that leads to enhancing the quality of living standard is the assigned and ultimate goal of NHRI. Since established in 1996, NHRI has grown and achieved significant results. NHRI has already laid down the ground rules of its agenda and made a satisfactory launch. The challenges ahead are stiff but NHRI is facing them with confidence and vigor. With the recruitment of outstanding scientists and recognition from the local scientific community, we believe that NHRI will live up to its mission.